Author and performer John McCutcheon will join us for an event for his picture book, Flowers for Sarajevo. He will be in town on tour for his folk album. We are delighted his schedule will allow him a stop at Bookworks.
"Folksinger John McCutcheon's picture book Flowers for Sarajevo provides an insightful response, combining history, humanity and music in a memorable picture book that's perfect for young elementary school students." --BookPage
About Flowers for Sarajevo:
The moving story of a young boy who discovers the power of beauty and kindness during a time of war. Drasko helps his father sell flowers in Sarajevo, but when war threatens and his father is called to the battlefront, Drasko must take over the flower stall. One morning the boys familiar routine is shattered when a mortar shell hits the bakery, killing twenty-two people. The next day, a cellist from the Sarajevo Opera Orchestra goes to the crater and plays the most beautiful music that Drasko can imagine. Inspired, he looks for ways to ease the sorrow of those around him. Based on real events of the Bosnian War, award-winning songwriter and storyteller John McCutcheon tells the uplifting story of the power of beauty in the face of violence and suffering. The story comes to life with the included CD in which cellist Vedrun Smailovic accompanies McCutcheon and performs the melody that he played in 1992 to honor those who died in the Sarajevo mortar blast.
Event date:
Saturday, July 29, 2017 - 11:00am
Event address:
Bookworks
4022 Rio Grande Blvd NW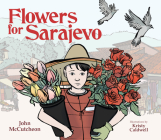 $19.95
ISBN: 9781561459438
Availability: Usually Ships in 1-5 Days
Published: Peachtree Publishers - April 1st, 2017
---

$6.95
ISBN: 9781682630006
Availability: Special Order - Price and Availability Subject to Change
Published: Peachtree Publishers - April 1st, 2017
---