This masterfully written children's book by New Mexico's favorite storyteller is a delightful tale about a young owl named Ollie who lives in an orchard with his parents in northern New Mexico. Ollie is supposed to attend school but prefers to hang out with his friends Raven and Crow instead. Ollie's parents discover he cannot read and they send Ollie off to see his grandmother, Nana, a teacher and farmer in Chimayo. Along the way, Ollie's illiteracy causes mischief as he meets up with some shady characters on the path including Gloria La Zorra (a fox), Trickster Coyote, and a hungry wolf named Luis Lobo who has sold some bad house plans to the Three Little Pigs. When Ollie finally arrives at Nana's, his cousin Randy Roadrunner drives up in his lowrider and asks Ollie why he's so blue. "I'm starting school, and there's too much to learn, and I can't read," Ollie says. "I can't do it." Randy explains that he didn't think he could learn to read either, but he persevered, earned a business degree, and now owns the best lowrider shop in Espanola! Ollie finally decides he is ready to learn to read. The characters and the northern New Mexico landscape in Owl in a Straw Hat come to life wonderfully in original illustrations by New Mexico artist El Moises.
Rudolfo Anaya, considered the father of Chicano literature, is the author of the beloved classic Bless Me, Ultima, which was adapted into a major feature film in 2013. In 2016, Anaya received the National Medal of Arts presented by President Barack Obama. His children's books include Rudolfo Anaya's The Farolitos of Christmas, The First Tortilla, Roadrunner's Dance, The Santero's Miracle, and Serafina's Stories. Anaya is professor emeritus of English at the University of New Mexico where he taught for thirty years. He lives in Albuquerque.
El Moises is leaving his mark as a modern-day artist who brings the essence of urban culture and barrio flavor to mainstream fine art. His work is influenced by the Chicano, American, Native American, and Mexican cultures that are reflected in his arte, which has been exhibited or featured around the world.
Event date:
Tuesday, October 17, 2017 - 6:00pm
Event address:
Bookworks
4022 Rio Grande Blvd NW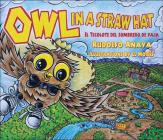 $16.95
ISBN: 9780890136300
Availability: Usually Ships in 1-5 Days
Published: Museum of New Mexico Press - November 15th, 2017
---