Join Steven Schneider for a talk about writing and mariachi! Please RSVP to rsvp@bkwrks.com for the Zoom link.
----
Poet, scholar, and professor Dr. Steven Schneider will give a reading and talk from his two poetry-art collections inspired by his living on the U.S. / Mexico border. This event will also feature two very special recordings made by Mariachi Aztlan during this period of "Shelter-in" as well as artwork by Reefka, whose paintings inspired the poetry. The Magic of Mariachi / La Magia del Mariachi is a bilingual book that combines two disciplines – art and poetry – creating a treasure of lyrical poetry and strikingly beautiful paintings of mariachi musicians. U.S. Poet Laureate, Juan Felipe Herrera, has written of this collection: "The Magic is here! We swoon, dance and enter the true and authentic universe of the mariachi in this prismatic poetry and painting volume."
Dr. Schneider will also read from Borderlines: Drawing Border Lives / Frotneras: dibujando las vidas fronterizas. A testimony to the people of the U.S. / Mexico border, the poems and drawings capture their spirit, their quest for happiness, and their struggles to overcome economic hardship. Compassionate and socially relevant, this inspiring book raises awareness about social and cultural issues associated with border life. Sandra Cisneros writes in her blurb for the book: "Hurray for Steve and Reefka and the magical work they are doing crossing fronteras." And Carmen Tafolla, former Texas Poet Laureate writes about Borderlines / Fronteras: "The poetry carries a grace and a toughness that are equally eloquent in the Spanish translation, and the drawings leave the reader entranced by the exquisite beauty of truth."
STEVEN P. SCHNEIDER, poet and scholar, is professor of Creative Writing at the University of Texas Rio Grande Valley. He is an elected member of the Texas Institute of Letters and is the co-creator with his artist wife Reefka of two bilingual, ecphrastic exhibits and books: Borderlines: Drawing Border Lives / Fronteras: dibujando las vidas fronterizas and The Magic of Mariachi / La Magia del Mariachi. He is also the author of the poetry collections Unexpected Guests and Prairie Air Show. His poetry has been featured on NPR Morning Edition and in American Life in Poetry as well as in many national and international literary journals, including Prairie Schooner, Bosque, and Critical Quarterly. He is a former Helene Wurlitzer Foundation Fellow, the recipient of five NEA Big Read grants, and the author and editor of three scholarly books on American poetry.
Event date:
Sunday, July 19, 2020 - 3:00pm
Event address:
Virtual on ZOOM
RSVP to rsvp@bkwrks.com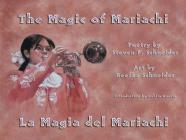 $24.99
ISBN: 9781609405052
Availability: Usually Ships in 1-5 Days
Published: Wings Press - April 1st, 2016
---

$15.95
ISBN: 9781609402730
Availability: On Our Shelves Now
Published: Wings Press - November 1st, 2012
---